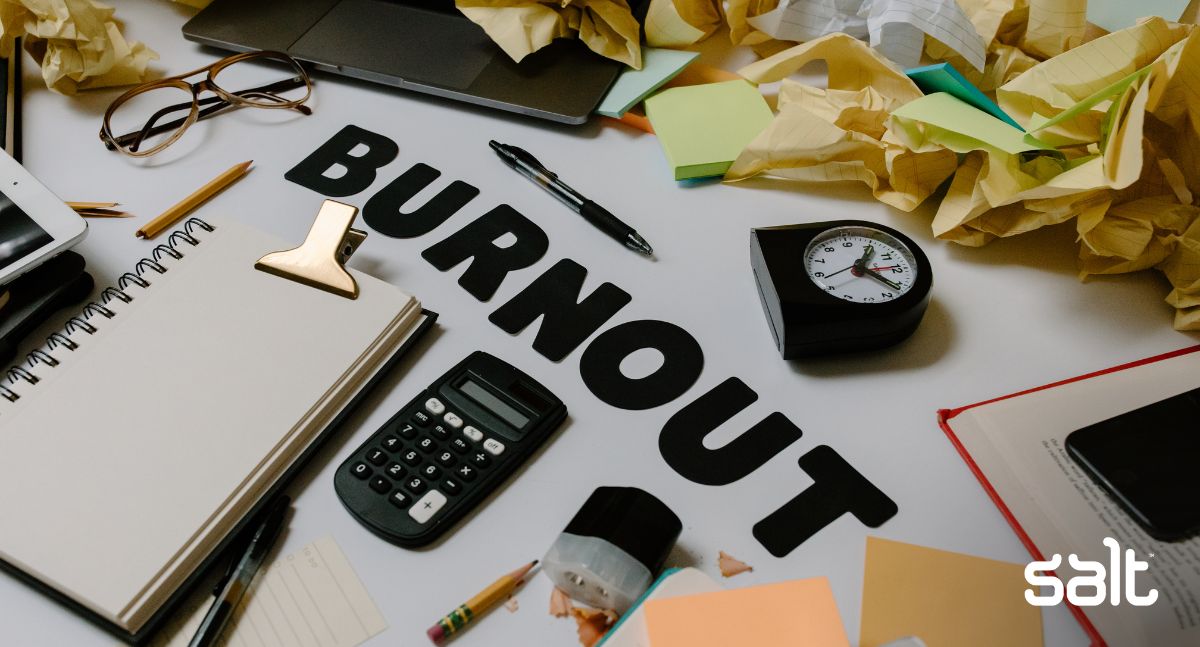 Feeling consistently stressed at work or in life can lead to burnout. So, what is burnout and is there a way to spot it? Our handy guide reveals all there is to know about burnout symptoms, and how to identify any tell-tale signs so you can help yourself and others, While there's no one size fits all solution or over-night fix, we have a few simple ways to prioritise your mental well being.
If you're experiencing burnout, know that you are not alone.
What is burnout?
The term burnout refers to a person's state of being where they experience emotional, physical, and mental exhaustion as a result of prolonged stress. It often occurs when you feel overwhelmed or emotionally drained.
Burnout symptoms can affect both your physical and mental health if its not acknowledged or treated. It may leave you feeling helpless, cynical and with low energy levels.
What are some of the signs of job burnout?
You may feel like you have little to no motivation
You may feel like you're constantly on and always having to think or do something
One of the signs of burnout may include feeling hopeless or defeated at work
It may result in producing a lower standard of work
There might be a noticeable change in your appetite or sleep patterns
What are some of the emotional signs of mental burnout?
You may experience a feeling of failure or self-doubt
Another sign of burnout may include feeling exhausted or drained
You may feel like you are alone in the world
You may tend to have a negative outlook on things
Every day may feel like a difficult day
What causes burnout?
One of the many causes of burnout stress due to a challenging workload. Other causes may include an uneven work-life balance, unfair job expectations or a perceived lack of control.
If you feel like you are undervalued at your workplace or feel overworked, you may be at risk of burning out. That's why it's important to recognise the signs so you can spot them in yourself or others, and make reasonable adjustments at work to prevent feelings of burnout.
Some causes of job burnout may include:
Unmanageable workloads and unattainable deadlines
Unfair treatment in the workplace
Confusing work responsibilities that are not clear to the employees
Lack of communication or a lack of support by management
Immense deadline pressure which may result in added stress
Lack of recognition of good work delivered in a high-pressure work environment
Dealing with burnout symptoms
Whether you're experiencing warning signs of burnout or you've already reached your breaking point, ignoring the signs could lead to further emotional and physical distress that takes longer to recover from. It's important  that you can feel healthy and happy, in and out of work, and we have some tips to help you deal with burnout symptoms. 
We recommend considering the "Three R" approach to combatting burnout:
Recognize burnout
This step acknowledges any warning signs of burnout. You might be experiencing some of the ones we've listed – or something different. Focus on how you feel about yourself and your work. If it's negative, it can be difficult to motivate yourself and get things done. No one should have to feel like that and your workplace should support you.

Reverse burnout
This step sets out to undo the damage of a burnout by seeking help and managing your stress levels. We have lots of advice about how to talk about your mental health at work – and we recommend opening up to someone you feel comfortable with. If no one knows what's happening, it's impossible to get the support and adjustments you need.

Resilience to burnout
This step focuses on building up a resilience to work-related stress by actively making time to take care of your physical and emotional wellbeing. If you're able to talk to your manager or HR there might be handy work resources, policies and programs to help you with that process.
There are also apps that can help to combat burnout symptoms – helping with focus, reframing thoughts positively, mindfulness and meditation, and sleep. Our favourites are listed here.
Top tips to combat mental burnout by building your emotional resilience
Every person is different, and so there is no one size fits all solution to something like burnout. But building your emotional resilience is a good way to manage work-related stress and can help you regain your energy, renew your focus, and improve your well-being.
Think about the things you enjoy and that make you feel better.
These could be small things like your favourite snack or show, spending time with someone you love or walking your favourite route. It might feel like you can't stop to take a break, but taking some time to refocus and recentre can actually mean you get more done whilst also making sure you don't feel low and overwhelmed.
Reach out to those closest to you to deal with burnout symptoms.
One of the best ways of dealing with signs of burnout is by turning to other people. Try taking breaks to be social with others. Try inviting someone out for coffee – or if you work remotely scheduling a virtual coffee catch up call. We recommend that you engage with positive people who will help to inspire and motivate, resulting in uplifting your mood. This can be in real life, in and out of work, and online.
It's important to keep in mind that you are not a burden on others and that your partner, family member or friend is there to offer support and guidance.
Try to get a good night's sleep.
Getting enough sleep has a big impact on how stressed you feel, and how well you're able to manage that stress. Sleeping 60 to 90 minutes more per night can make you happier and healthier, according to the American Institute of Psychologists.
Tired of feeling tired? These tips could help:
Exercise regularly each week – it helps to boost the effect of melatonin which is a natural sleep hormone
Create a daily sleep ritual – it helps to signal your body and mind that it's time to sleep. Try having a warm bath before bed every night or listening to calming music to help you unwind
Avoid having caffeine, nicotine or some form of alcohol late in the evening – they are known to have stimulating effects which may interfere with your sleep patterns
Avoid screens before bed – even just 30 minutes away from screens can help you fall asleep more easily. Try charging your phone outside of your bedroom to reduce temptation!
Enjoy a relaxing activity such as yoga or meditation.
One of the best ways to release stress is through physical activity such as a home workout or a visit to your local gym. Another great way is with a relaxing activity such as yoga or meditation. It can help to release tension and stress and alleviate levels of anxiety which contribute to burnout.
Practice exercising mindfulness.
Another great way to deal with burnout is to exercise mindfulness to take care of your emotional well-being. Mindfulness is a technique that involves assessing your feelings and thoughts in the present moment to help improve your overall mental wellbeing. It has been proven to help you feel more self-aware, calmer and less stressed.
A great way to practise mindfulness is through One Minute of Mindfulness which you can do anytime throughout the day. Simply spend 60 seconds focusing your attention on your breathing and your internal thoughts and feelings. It's a great way to identify if you are feeling overwhelmed so that you can assess how to cope with your work challenges. You can build up to longer stretches of mindfulness – these apps could help!
Request a day off work to help deal with burnout symptoms.
If you feel like work is consuming you, it's important to request a day off to recharge so that you can feel empowered and motivated when returning to the workplace. Sometimes it's as simple as having a day off doing something that makes you happy to boost your morale and improve your levels of creativity. For those feeling overwhelmed by their to-do list at work or feel anxious about leaving your desk for the day you may need to have an honest conversation with your manager or HR team and arrange for more substantial health leave to recover.
How Salt can help
36% of workers state that their organizations have nothing in place to prevent and support with employee burnout (Thrive My Way). If you're looking for a new role, Salt is a leading digital recruitment agency, send your CV to enquiry@welovesalt.com or use our search to find jobs. You can also keep in the loop by following us on Facebook, Instagram and Twitter.