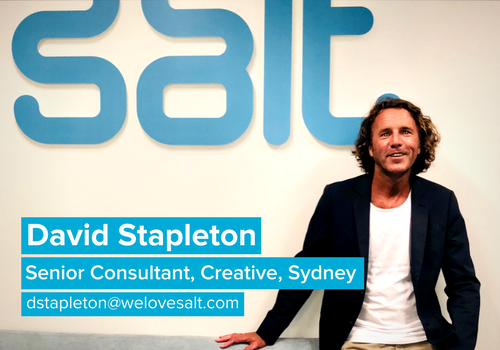 My Universe is… Creative & Production across all Digital, Advertising, and Graphic Design businesses. Having been a Creative Director I have a unique ability to recognise great ideas and execution/craft.
My favourite app at the moment is… Google translate, which is constantly open as I am currently living with an Argentinian flatmate.
The song I would sing at a karaoke bar is… I'm in a Karaoke Bar? I must be drunk, please get me home!
The fad I would love to bring back is… Human communication/interaction off-screen.
The emoji I use the most is… My own creations…I like creating various pictograms by combining 2 emoji's. I call them 'Emoji Jams'.
Fun fact about me… I was on the dating show 'Perfect Match'. They said I'd won, it didn't seem like it!
Salt is a global, award-winning digital recruitment agency in Sydney. To find a job in consulting, contact David at dstaplenton@welovesalt.com